Hillsborough inquests to take place in Warrington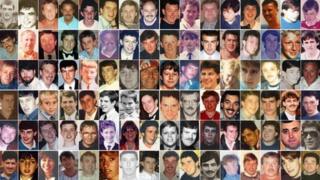 Fresh inquests into the deaths of the 96 Hillsborough victims will take place in Warrington, coroner Lord Justice Goldring has said.
New inquests, which will begin on 31 March, were ordered in December when the High Court quashed the original verdicts of accidental death.
Lord Justice Goldring will provide details of the venue at a later date.
The Independent Police Complaints Commission (IPCC) Hillsborough investigation is based in Warrington.
The investigation led by former Durham Chief Constable Jon Stoddart into how the disaster unfolded is also based in the same building, Renaissance House.
Ninety-five victims were crushed to death in Britain's worst sporting disaster, on 15 April 1989, at Sheffield Wednesday's Hillsborough stadium during Liverpool's FA Cup semi-final against Nottingham Forest.
The 96th victim died in 1993 when the Law Lords ruled that doctors could stop tube-feeding and hydration.
Campaigners have always contested the verdicts at the original Hillsborough inquests, which took place in Sheffield in March 1991.
Those verdicts were quashed after the Hillsborough Independent Panel studied thousands of documents and reported last September that there had been a huge cover-up of what happened at Hillsborough and in the aftermath.
Families did not want the new inquests to be held in Sheffield - changes made since 1991 mean that the location of an inquest can be moved from a coroner's own district if it is deemed to be in the best interests of bereaved families and witnesses.