Liverpool mayor claims 'city could be bankrupt in two years'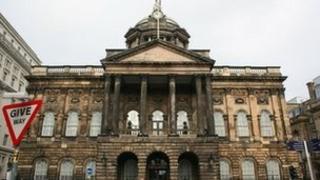 Liverpool mayor Joe Anderson has warned government cuts mean the city could be "bankrupt" in just over two years.
Liverpool City Council says it will only have money to run mandatory services, such as social care.
Mr Anderson said that by financial year 2016-17 "the city will be bankrupt - it is that stark a challenge for us".
Brandon Lewis, Local Government Minister, said it was "scaremongering" and the council has a duty to provide services.
The council has to save £156m over the next three years, on top of £173m worth of cuts over the last three years.
Adjusted figures are a result of changes in funding arrangements announced by the government.
'Far worse'
Liverpool spends a quarter of its net budget of £550m on cultural events, regeneration and leisure centres, despite not having a statutory obligation to do so.
Mr Anderson claims by 2016-17 this money will be needed to pay for adults and children's social care, environmental health, refuse collection and street cleansing, unless circumstances change.
He said: "There is far worse to come and people need to understand that over the next few years we are going to be stopping doing things that we currently take for granted. If we do not, we will simply go bankrupt."
Mr Anderson said 80 pence in every pound comes from central government and because almost half of the funding has been taken, there will be "some difficult and tough choices".
Bankruptcy is a legal status where a person cannot repay the debts it owes to creditors. It is usually imposed by a court order, often initiated by the debtor.
In the UK, bankruptcy is limited to individuals, but in the US it is applied more broadly to formal insolvency proceedings.
In July, the city of Detroit filed for municipal bankruptcy with $18bn (£12bn) debts.
'Deepest cuts'
Mr Lewis said: "The Mayor of Liverpool, and Labour generally in Liverpool, have used this scaremongering year on year now.
"The reality is Liverpool has one of the highest spends per household anywhere in the country. They've got a City Deal, they've got a lot of investment going on there. They've got a duty to provide good quality services.
"If the mayor can't do the job its time for Joe to stand down and let another party have a chance."
Local Government Association chairman Sir Merrick Cockell said: "Local government is nearing crisis point.
"Councils have been handed the deepest cuts in the public sector and some are nearing the stage where they will be unable to meet their statutory responsibilities.
"The system of funding local government has to change or things will start to fail.
"Councils deliver important services that people use every day and it is time that funding for those services was given the priority and long-term sustainability which is required."
The latest financial position shows that Liverpool City Council will have to save £45m in 2014-15, £63m in 2015-16 and £48m in 2016-17.