Plans for new Liverpool urgent care and trauma centre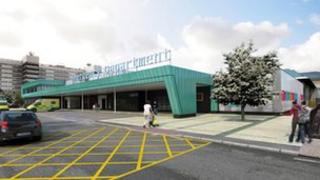 Funding has been approved for a £35m urgent care and trauma centre at a hospital in Liverpool.
The project at Aintree University Hospital in Fazakerley will create one of the most modern accident and emergency departments in the region.
Currently about 85,000 patients a year attend A&E at the hospital.
Work is expected to be completed by 2016 and will include a two-storey building for A&E, critical care and cardiology and a fracture clinic.
Chief executive Catherine Beardshaw said the investment "represents our commitment to providing world-class care for all our patients".
More than half the funding - £20m - came from the Foundation Trust Financing Facility with the remainder from the trust's capital budget.
The contract was won by BAM Construction, which said it would create more than 1,000 construction jobs during the project.
The trust has already built a new operating theatre and link road to improve ambulance access.