Two rescued as car hangs off M6 near Haydock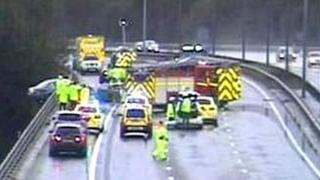 Two people had an "extremely lucky" escape after their car was left hanging over a 30ft (9m) drop off the M6 in Merseyside.
The North West Ambulance Service said one person suffered a leg injury in the crash, which happened at 08:30 GMT at junction 23, near Haydock.
Firefighters from Merseyside Fire Service used winches and cables to return the car to the road.
Two lanes of the southbound M6 remain closed, the Highways Agency said.
Watch manager Chris Parrington, from Merseyside Fire Service Search and Rescue Team which attended the scene, said: "When we arrived the back of the car was overhanging part of the East Lancashire Road, but the car was relatively stable and pretty level.
"We had to use winches and cables to secure the vehicle before the two occupants could be helped out. We had to use hydraulic cutters and a reciprocal saw to remove the door to release the driver.
"Both occupants of the car walked out assisted by firefighters and members of the North West Ambulance Service's Hazard Area Response Team. They were extremely lucky with a drop of more than 30ft (9m) to the carriageway below."