Sea Odyssey giants return to Liverpool for WW1 commemoration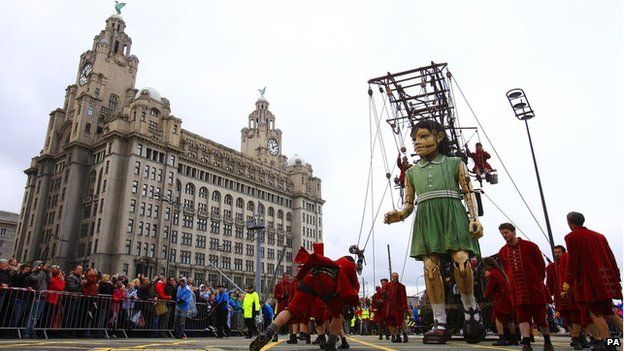 Giant puppets will return to Liverpool for an event to mark 100 years since the outbreak of World War One.
Memories of August 1914 will see Little Girl Giant and her canine companion Xolo return to the city's streets from 23 to 27 July.
They appeared in 2012 in Sea Odyssey, which was watched by 800,000 people.
Helen Grant, Minister for Sport and Tourism, said: "Liverpool will without a doubt be home to one of the largest cultural commemorations."
The Royal De Luxe's street theatre show is one of many events that will be taking place across the country over the next four years.
Mrs Grant, who is co-ordinating the government's World War One commemorations, said: "This is sure to be a truly powerful and memorable piece of street theatre, which will shine a spotlight on an incredibly important period in our history."
Mayor of Liverpool Joe Anderson said it was "guaranteed to be awe-inspiring".
Sea Odyssey saw three giant marionettes - a 50ft (15m) man, a 30ft (9m) girl, and a 9ft (2.75m) dog, called Xolo - in the streets of Liverpool for a three-day event in April 2012.
The event, which commemorated the Titanic disaster, generated an estimated £32m for the city.
The WW1 event has been commissioned by Liverpool City Council and 14-18 Now, which is a cultural programme funded by groups including the Department for Culture Media and Sport.
The story for Memories of August 1914 and the route will be announced at a later date.
Related Internet Links
The BBC is not responsible for the content of external sites.