Sean McHugh death: Six in court over 'sword stick attack'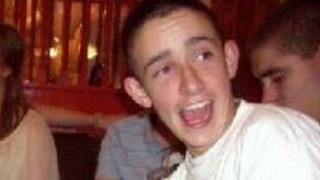 A teenager found stabbed behind a Liverpool laundrette was attacked with a "sword stick", a court has been told.
Sean McHugh, 19, from Walton, died four days after he was found in an alley off Priory Road, Anfield, last year.
Reese O'Shaughnessey, 19, of Anfield, and five youths - three aged 14 and two aged 15 - all deny murder.
The prosecution at Liverpool Crown Court told the jury a weapon similar to "a walking stick" but carrying a blade was used.
Nicholas Johnson QC said Mr McHugh suffered "catastrophic bleeding", with the wound resulting in "multiple organ failure".
The trial continues.