Van driver guilty of Jeff Argent road rage death in Formby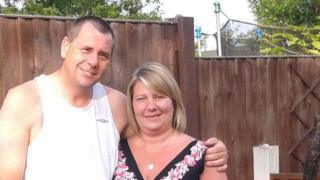 A van driver who forced a motorist to crash in a road rage incident has been convicted for a second time of causing death by dangerous driving.
The judge at Liverpool Crown Court told Colin Scarisbrick, 39, to expect a substantial sentence.
Jeff Argent, 49, from Birkdale, Merseyside, died when his car hit a lamp-post last October.
Scarisbrick, of no fixed address, was convicted of causing death by dangerous driving in 2000, the court was told.
During the six-day trial, the jury heard how Scarisbrick and Mr Argent, father of two, had been arguing and gesturing to each other while driving along the A565.
As Mr Argent moved his car into the outside lane Scarisbrick steered his van in front, forcing Mr Argent's car across the carriageway and into a lamp-post.
Paramedics were called but Mr Argent was dead.
Scarisbrick left the scene without stopping and was later traced to an industrial unit.
Mr Argent worked as a school caretaker in Blundellsands, Sefton.
His family were in the public gallery as the guilty verdict was read out.
Helen Graves, of the Crown Prosecution Service, said: "Scarisbrick has fought this all the way and pleaded not guilty, forcing Mr Argent's family to go through the ordeal of a trial.
"Scarisbrick is clearly a danger to all road-users with a string of convictions for similar offences.
"On that fateful day in October last year, his temper got the better of him again and he drove an innocent man off the road and into a lamp-post where he met his death.
"Mr Argent's family are left to come to terms with their loss while Scarisbrick must come to terms with the consequences of what he has done."
Scarisbrick was remanded in custody and will be sentenced on 14 April.