St John's Market in Liverpool's £2m revamp plans unveiled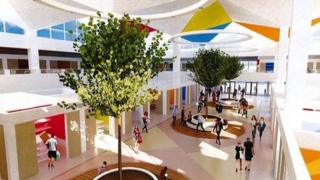 Plans for a £2m revamp of St John's Market in Liverpool have been unveiled.
The new proposals include a modernised entrance on Elliot Street, a central atrium space, wi-fi and the balcony bought back into use, the council said.
Stalls selling similar goods will be grouped together and 20 more stalls will be created, making 140 in total.
Councillor Malcolm Kennedy, cabinet member for regeneration, said the current market was "tired and dated" with "the feel of the 1970s".
The move to modernise the market comes after traders complained the number of shoppers visiting them was declining.
The plans are on display in the market on Thursday so traders and shoppers can have their say as a consultation over the proposals starts.
A separate programme of works has already started on improving the roof and lighting, due to be completed in April.