New Archbishop of Liverpool named as Bishop Malcolm McMahon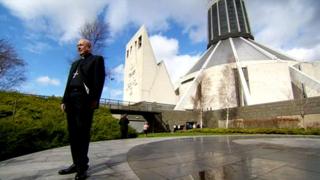 The Pope has named the current Roman Catholic Bishop of Nottingham, the Rt Rev Malcolm McMahon, 64, as the ninth Archbishop of Liverpool.
Archbishop-elect McMahon will be consecrated on 1 May during a Mass at Liverpool Metropolitan Cathedral.
He succeeds Archbishop Patrick Kelly, who stepped down in January 2013, after a stroke in 2012
The archdiocese covers Liverpool, the south west of Greater Manchester, West Lancashire and the Isle of Man.
The London-born archbishop-elect said his was "honoured and humbled" to be appointed and paid tribute to the dignity of the Hillsborough families who "didn't have a voice" for many years.
He also said the Church had to be relevant to the people who "suffering from the effects" of government spending cuts.
Bishop McMahon graduated in mechanical engineering from the University of Manchester Institute of Science and Technology and worked as an engineer for London Transport before entering the Dominican religious order in 1976.
He was ordained a priest and was elected the order's English Prior Provincial in 1992.
Monsignor Thomas McGovern, Vicar General of the Diocese of Nottingham, said the community was sad to lose a "well-loved and well-respected shepherd", who had served it since 2000.
He said the bishop will celebrate two farewell Masses in St Barnabas' Cathedral, Nottingham, on 16 and 28 April.