Concerns over St Luke's 'bombed out' Church in Liverpool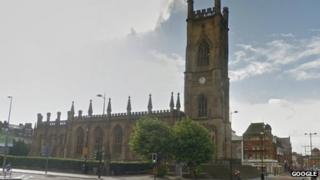 New uses are being sought for a church in Liverpool that was hit by a bomb in World War Two.
Talks about the future of St Luke's Church, which was destroyed by a bomb in 1941, were ongoing the Mayor of Liverpool Joe Anderson said.
But councillor Richard Kemp said he would be "appalled" if the building was bought by developers.
The mayor added it would only be sold if the buyer protected it as a tribute to those who died in World War Two.
'Open mind'
The walls and gates of the church are Grade II listed.
Lib Dem councillor Mr Kemp said the church on the corner of Leece Street and Berry Street was "the last visible reminder" of the deaths of thousands of civilians in World War Two.
Mr Kemp said: "We must be very careful of entrusting much loved listed buildings to the care of private developers."
Instead, he said, it should be transferred to a non-profit making body who will "care for it and honour its role of remembering bombings and famines".
Mr Anderson said the church was costly to maintain and the council has to make £156m of savings over the next three years.
He said he was willing to look at proposals with an open mind but said the building would not be sold to be converted into dwellings.
"I am in no way looking to jeopardise the legacy or status of the building and everything it represents," he stated.
"For me, and for many people in the city, it is a fitting and lasting tribute to those who died in the world wars and during the blitz of Liverpool."
St Luke's Church was built in 1831 by John Foster and John Foster Jr.
Although there have been suggestions to restore it as a church, it continues to stand as a memorial to those killed in the war.
More than 19,000 people have signed an online petition to preserve the church in its current state.