Liverpool mayor withdraws threat to quit Merseyside authority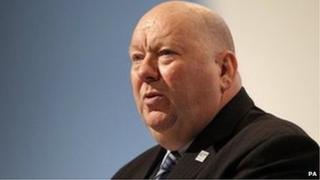 The Liverpool mayor has withdrawn a threat to pull out of a Merseyside combined authority after a leadership vote was taken in his absence.
The Liverpool City Region Combined Authority has been set up on behalf of Merseyside's six local authorities.
Joe Anderson claimed the chairman and deputy were elected when he and another council leader were not in the room.
"We will continue to work with our partners...without Liverpool there is no combined authority," he said.
'Prize so big'
The mayor said Liverpool was the economic "powerhouse" at the heart of the city region.
"We've always played that role, we always have and we always will, despite other people's efforts," he said.
In his brief statement made at a meeting of Liverpool City Council's cabinet, Mr Anderson said that as far as he was concerned "the matter is closed".
On Tuesday Councillor Phil Davies, leader of Wirral Council, was elected chairman of the combined authority and Councillor Ron Round, Knowsley Council leader, was chosen to be vice chairman.
Mr Anderson and Sefton Council leader Peter Dowd were not present for the vote.
Mr Davies said he welcomed the statement from the Mayor of Liverpool and wanted to "move forward".
"I think it's incredibly important that all the leaders work together towards the big prize of getting jobs and investment for the region," he added.
As a single body the authority can bid for extra government money on transport, economic development, employment and skills.
The model has been likened to the Greater Manchester Combined Authority created two years ago.
Commenting on the row, Lord Heseltine said personalities must not be allowed to "get in the way of the greater interests of Merseyside."
He was dubbed Minister for Merseyside when he was instrumental in beginning the regeneration of the city following the 1981 Toxteth riots.
"In the other authorities that have come into existence in every case the agreement has been that a leader other than the biggest city has taken the chair," the peer said.
Lord Heseltine, who was given the freedom of the city in 2012, said he hoped "the common sense of the local people" would prevail because "the prize is so big".