Liverpool food bank sees usage rise fivefold in three years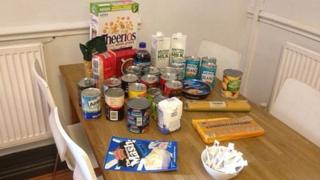 The number of people using a Liverpool food bank has risen fivefold in the three years of its existence.
The Central Liverpool Foodbank served 10,293 between April 2013 and March 2014, up from 2,126 people between April 2011 and March 2012.
James Sloan, of the food bank's organisers Imagine If Trust, said about 5,000 of those helped were children.
Liverpool Wavertree MP Luciana Berger praised donors' "generosity and the dedication of [food bank] volunteers".
The food bank is one of three which serve Liverpool, alongside similar facilities in the north and south of the city.
It has served more than 100,000kg of food aid to people since it opened in April 2011.
Volunteer Terry Wilson said she "could cry sometimes" at what she has seen and heard at the centre.
"People tell me that they haven't eaten for so many days," she said.
"We make them toast and they eat all of it and ask for some more - I know they wouldn't ask for it if they weren't genuinely hungry."
Mr Sloan said that "very often, the three days' worth of food we provide to people is all that prevents desperate hunger".
"It is great to hear praise for the work we do, but we would very much prefer people not having to rely on us," he added.
Ms Berger, the shadow public health minister, said the food bank, along with those across the country, had become necessary because of "cruel and unfair reforms" by the government.
A spokeswoman for the Department for Work and Pensions said the benefits system "supports millions on low incomes or unemployed and there is no robust evidence that welfare reforms are linked to increased use of food banks".
She added that the reforms would "improve the lives of some of the poorest families" and that the government had "taken action to cut the cost of living".