Bollywood star Amy Jackson assault: Boxer Joe Selkirk sentenced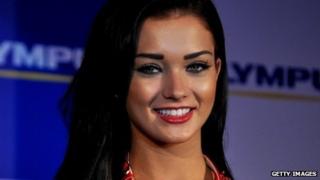 A champion boxer who assaulted his Bollywood star girlfriend has been given a 12-month community supervision order.
Joe Selkirk, 28, from Bootle, admitted pushing Amy Jackson, 23, after winning his WBO European light middleweight title in Liverpool in December.
The case was brought even though the actress, a former Miss Liverpool, refused to make an official complaint.
His lawyer told Liverpool magistrates Selkirk "deeply regretted" the assault.
Selkirk's lawyer Chris McMaster told magistrates he "went too far".
Mr McMaster also told the court Ms Jackson wants to resume the relationship with Selkirk.
The Crown Prosecution Service (CPS) said although Ms Jackson was not willing to pursue the case it decided a prosecution was necessary and was in the public interest.
Angie Rowan from the CPS said: "Selkirk is a boxing champion and an assault by him would clearly have a substantial impact.
"There were witnesses to what had happened and they were definite about what they had seen between the couple."
"Victims of domestic violence often don't want to pursue a complaint because they're frightened of reprisals or are worried about the impact it will have on their families.
"However, the CPS is determined to bring these cases to court wherever possible in the interests of the public as a whole."
Ms Jackson launched her career in Bollywood after she was spotted by Indian film producers in a beauty contest.
She has appeared in Madras Town, Ekk Deewana Tha and Thaandavam.
Selkirk, who is unbeaten as a professional fighter, is promoted by Frank Warren.
The British Boxing Board of Control is yet to comment on Selkirk's sentencing.