Hillsborough inquests: Father 'failed to protect' son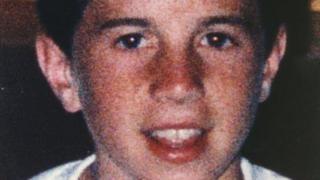 The father of a 14-year-old boy who was among the 96 Hillsborough victims died believing he had "failed to protect" his son, an inquest has heard.
Eddie Spearritt's son Adam had lost consciousness in his arms in the crush at the FA Cup semi-final in April 1989.
Mr Spearritt, who also passed out, was told of Adam's death when he came to in hospital the next day, his widow said.
He had fought for new inquests but died before they were ordered, the coroner in Warrington heard.
'Opened our hearts'
Janet Spearritt said: "Eddie struggled to forgive himself for not saving Adam.
"He would say it was his job to protect Adam and he failed.
"Sadly, Eddie died three years ago without really knowing that his efforts in helping to fight for a new inquest were coming to fruition."
She said Adam "loved" watching Liverpool at Anfield and the trip to Hillsborough was his first away game.
The schoolboy from Runcorn in Cheshire "opened our hearts to the joys of being parents", she said.
Coroner Lord Justice Goldring has described the disaster as "the worst ever at a British sports stadium".
It unfolded on 15 April during Liverpool's match against Nottingham Forest at Sheffield Wednesday's ground.
The inquest jury also heard about Raymond Chapman, 50, from Birkenhead in Wirral, who went to the game with four friends but only two returned home.
His widow Joan said his friend gave him a ticket for the match.
'Never coming home'
Ms Chapman said she would not be surprised if her husband "lost his life going back into the stadium to save others".
His son Andrew and daughter Karen Upton, in a joint statement, said: "It was impossible to believe he would never be coming home."
Brenda Fox told the inquest her 21-year-old son Thomas Steven Fox, who was known as Steve, carried an organ donor card.
She said: "Had he been taken to hospital before his death many others would have benefitted from his willingness to donate.
"Sadly he never made it."
Hilda Hammond's son Philip, from Liverpool, died aged 14.
She told the inquests her "sensible, caring" son "loved to make people laugh".
'Becoming a man'
Ms Hammond said: "We were certainly blessed to have such a lovely boy even though it was only for 14 short years."
David Thomas from Birkenhead died aged 23.
His mother Valerie said in a statement heard by the inquest that it was hard to talk about her son.
She said he had set up a painting and decorating business and was "just becoming a man when he was taken from us".
Jurors have been listening to background statements about how the Hillsborough disaster affected individual families.
The inquests, set to last a year, were ordered after new evidence revealed by the Hillsborough Independent Panel led to the original inquest verdicts being quashed.
David Rimmer, from Skelmersdale in Lancashire, died aged 38.
His widow Linda's statement said: "When I received the panel report, I felt as though Dave's soul was on the way to being at peace at last.
"When this inquest is all over, hopefully the full truth will be revealed and he will be truly at peace."
The jury heard from Carl Brown's mother Delia who said her son became an "avid" Liverpool fan and season ticket holder at senior school.
Mr Brown, 18, from Leigh in Greater Manchester had been looking forward to studying at Manchester University before he died.
'My hero'
Ms Evans Brown said: "He only had a short life but it was a fulfilled and happy one, and we were so proud of him," she added.
The inquest heard about Eric Hughes, from Warrington in Cheshire, who died aged 42.
His son David told the jury 99% of his memories of his dad were related to Liverpool FC.
He said: "It was what me and my dad did together - it was like a religion."
He waved his father off for the Hillsborough game and "that was the last time I saw my dad - a man that was everything to me. He was my hero."
Craig Fitzsimmons told the jury about his father, Vincent Fitzsimmons, from Wigan in Greater Manchester, who was 34 when he died.
Mr Fitzsimmons, said: "I was so lucky to have him as my dad. I was only nine years old when he died."
"I suppose I have never really got over the fact that I lost my dad so suddenly in such an awful way," he added.
The inquest was adjourned until Wednesday.