Hillsborough inquests: Son 'lost life' four years before his death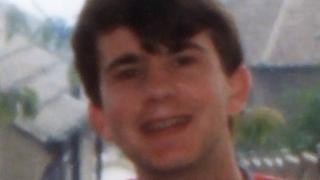 The parents of the 96th Hillsborough disaster victim said their son lost his life four years before a court ruled he could die, an inquest has heard.
Tony Bland was left in a coma by the tragedy and died aged 22 in 1993 after Law Lords ruled doctors could stop tube-feeding him.
The coroner in Warrington heard a crush at the FA Cup semi-final in April 1989 led to the deaths of 96 football fans.
Allan and Barbara Bland said in a statement he would "always be missed".
The statement read to the jury by Andrew Duncan, Mr Bland's brother-in-law, said: "The young man we knew lost his life on 15th April 1989 and died in hospital four years later, on 3 March 1993."
"Tony is remembered by many and will always be loved and missed."
His parents said the labourer from Keighley, West Yorkshire, had a "happy and carefree childhood" and enjoyed the outdoors as well as watching rugby and Liverpool FC then drinking in the Arkles pub in Anfield.
Jurors have been listening to background statements about how the Hillsborough disaster affected individual families.
The mother of teenager Kester Roger Marcus Ball, from St Albans, told the inquest her son did not get to fulfil any of his dreams he wrote about in a school project titled My Future Hopes when he was 11.
She said her fun-loving son said he wanted to do his driving test at 17, have a big 18th party, go to university and follow his father into banking, get married and have two children in the project.
Ms Ball told the inquest: "Kester never achieved these future hopes. He died aged 16 years."
The mother of Carl David Lewis, from Liverpool, told the inquest how her eldest son's death "tore her family apart".
Margaret Lewis's statement was read out to the jury by Mr Lewis's daughter Chantelle, who was 11 months old when he died.
Mrs Lewis said: "Michael, my husband, never recovered from the loss of our first-born son and died four years ago at the age of just 58.
"He has nieces and nephews who never met him but they all know about that dreadful day and they love and miss him just the same."
Leanne Hawley read out a statement to the court about her father, 39-year-old David Hawley from St Helens. The youngest of his three children she was just a year old when the disaster took place.
She said her sister Claire shared some memories with her and told her he was a "character" and "if there was a party, he was at it."
He travelled to the match with four others including his 17-year-old nephew, Stephen Francis O'Neill, who also died.
She said: "My dad and Stephen's loss has left a huge void in our family."
Mr O'Neill's mother Patricia O'Neill said in a statement, which was read out by his cousin Claire Roper, that football had been part of the Whiston student's life since birth.
He was named after Liverpool winger Stevie Heighway and he had a pair of football boots rather than a teddy on his pram.
She recalled him smiling at her as she waved him goodbye when his lift to the game arrived.
"Five left the house that day, and only three returned.
"What a waste of a lovely life," she said.
The inquest heard two statements about 29-year-old James Robert Hennessy, from Ellesmere Port, one from his sister Karen Gooding and one from his daughter Charlotte.
Ms Gooding said that "our Jimmy, as he liked to be called" was "especially precious" to her mother who lost her eldest son Steven when he was a baby.
"Twenty-five years on, she still grieves for him with a broken heart that will never mend, all because he went to watch a game of football."
She added: "He was not body number seven - to me he was our Jimmy, her son, my brother."
As Ms Hennessy read out her statement a picture of her sitting on her father's knee was shown on the screens in court.
She said her father would always be her hero.
"I only had six little years with him but they were some of the best years of my life."
James Philip Delaney, who worked at Vauxhall Motors in Ellesmere Port, was 19 when he died.
His younger brother Nick Delaney was nine at the time. He told the court James had promised to take him to the FA Cup final.
"But that final never happened," he told the jury.
He said "everything changed" for the family after Hillsborough.
"I went from a boy to a man; it took my innocence my childhood and my brother and my family."
Twenty-nine-year-old Alan Johnston, a trainee accountant from Liverpool, was due to get married when he died.
In a statement read out to the jury, his brother Ken said Alan was "very sociable and great fun to be with" who "will be missed with infinity".
Gordon Rodney Horn was 20 when he died.
His foster mother Denise Horn told the jury: "We all miss him so much.
"We stopped him from going to the Heysel football match to keep him safe."
She added: "It's a shame we couldn't stop him from going to Hillsborough."
Brian Matthews, a financial consultant from Knowsley Village, was 38 when he was killed.
His wife Margaret Matthews told the jury when she was told the news she refused to believe he was dead.
"I could not comprehend that my funny, loving, artistic, generous, handsome and larger-than-life husband could go to a football match and never come home."
She said she remembered lying in bed and praying not to wake up for five years shortly after his death.
Coroner Lord Justice Goldring has described the disaster at Sheffield Wednesday's stadium as "the worst ever at a British sports stadium".
The inquests, set to last a year, were ordered after new evidence revealed by the Hillsborough Independent Panel led to the original inquest verdicts being quashed.
The hearing was adjourned until Tuesday.