D-Day bagpipes in Liverpool en route for Normandy anniversary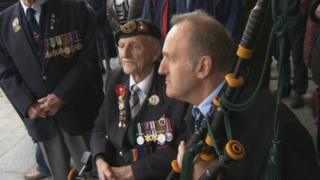 D-Day veterans have gathered in Liverpool to meet a set of bagpipes that are on their way to Normandy.
The bagpipes are a replica of the ones played by Piper Bill Millin as troops landed on Sword Beach on 6 June 1944. Despite heavy machine gun fire, the 21-year-old soldier survived.
The replica pipes are on a nationwide tour ahead of the 70th anniversary of the landings.
They are visiting places which played a important role in the invasion.
Veteran Richard Llewellyn, from Greasby, Wirral, said events like the bagpipe tour should not be seen as a celebration.
"It really is about remembering the people who took part and didn't come back - that's the important thing," he said.
The pipes were commissioned by the charity D-Day Revisited, which organised the tour.
The bagpipes left Fort William in May, seen off by Piper Millin's son, John.
They will visit 10 ports on the south coast, from where troops left for the D-Day landings, before arriving at the French town of Colleville-Montgomery on 6 June.
The original pipes played on D-Day are in the Dawlish Museum, Devon.
The museum lent the chanter from the 1944 bagpipes - which changes the note played - to be used in the replica pipes.