Liverpool fire that killed mother and son was arson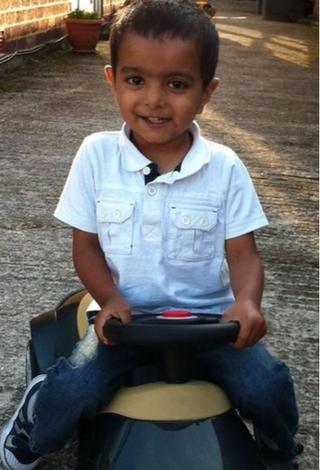 A fire in a flat that killed a mother and her four-year-old son was started deliberately, police have said.
Janma Joshi, 40, and Moksha Jai Joshi, known as Jai, died from the effects of smoke inhalation in the blaze in Moscow Drive, Liverpool on Thursday.
Jai's family said their "considerate and polite young boy" with an "infectious smile" had "tragically lost his life to a mindless act".
Police said there was "no evidence of any third-party involvement".
'Many open questions'
Jai lived in Preston and was a pupil at Howick CE Primary School in Penwortham.
His father and family said in a statement: "He was a child who would share all his toys and sweets, even if it meant that he had none for himself.
"Jai was quietly spoken but had an infectious smile which would brighten up your day."
"Jai was a model child who tragically lost his life to a mindless act.
"A tragedy, yes, with many open questions. The family seek for the truth for Jai," the statement added.
Det Ch Insp Andy O'Connor said forensic examinations had established the fire was deliberately started and an accelerant was used.
"Although the investigation is in its early stages there is currently no indication of any third-party involvement," he added.