Dingle tunnel collapse families anger at repair costs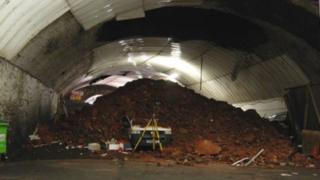 Residents who had to leave their homes after a tunnel collapsed in Liverpool two years ago say they are angry they must pay for repairs themselves.
Eleven houses were declared unsafe after the disused railway tunnel in Dingle collapsed in July 2012.
Those affected say they were not covered by their insurance for the damage to their homes and contents.
Liverpool City Council said it had brokered a deal with the insurance companies to get the tunnel repaired.
'In limbo'
Families in the homes affected on Sundridge Street, Dingle Grove and Toxteth Grove lived in temporary accommodation before being allowed back into their homes in February.
Sundridge Street resident Joe Burke said he had spent more than £3,000 making his house habitable again.
He said: "For the best part of two years we were in limbo.
"The council didn't do anything. We've had nothing.
"Then we got a note through the door saying we could go back in, and when we did we were faced with having to do the house up from scratch."
The city council said it understood "the difficulties facing residents who were affected" and had offered vouchers to replace furniture.
A spokesman said: "We brokered a deal between the insurance companies to get the tunnel repaired and provided assistance in helping those who needed it to find temporary accommodation.
"We understand that some of the residents have had to replace their belongings and that is a matter for them to discuss with their insurance companies.
"Unfortunately, we are not in a position to provide financial assistance where residents and/or house owners have had costs over and above their policy coverage."
The tunnel, which was being used by a car repair company, is built on the former site of Dingle railway station. It is not known why it collapsed.