Rania Alayed: Father regrets not helping her leave husband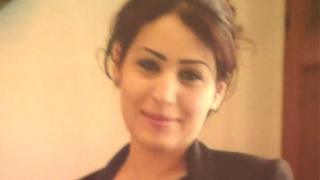 After the jailing of an abusive husband for the murder of his wife, her family say they now wish they had not pushed her to stay with him despite his history of violence.
Rania Alayed, a 25-year-old mother-of-three, had tried to leave her abusive husband Ahmed Al-Khatib several times before she was murdered in a Salford home.
She disappeared on 7 June 2013 and her remains are believed to have been dumped at the side of a road near Thirsk, North Yorkshire. Her body has never been found.
Ms Alayed grew up in Syria, in a refugee camp. It was there she met her husband-to-be, a blacksmith, and the pair married when Ms Alayed was just 15.
Her brother remembers Ahmed Al-Khatib was violent even then.
"It used to sometimes happen in front of me," said Ahmad Mohammad El Ayad.
Hope for change
"I couldn't do anything, my sister would tell me it's ok, tomorrow he'll change. Maybe he's just angry now."
"We would tell her, he is still your husband and the father of your children," said her father Mohamad Bassam Mahmoud El Aidi, who lives in the city of Sidon, Lebanon.
"I wish I did not try to reconcile her with him. I wish I had pushed her to divorce him long ago.
"We would tell her to be patient, in the hope that he'd change and get on the right track."
Ms Alayed - and her family - hoped her husband would change and that their move to England would mean a safer, happier life.
But by the time Ms Alayed moved to Cheetham Hill in Manchester, Al-Khatib was haranguing her brother on Facebook, complaining about his wife wanting to live life away from her in-laws.
Chillingly, he wrote: "I swear, if she doesn't come back to her senses, I swear on my daughter, that we will all be sad. Is she your sister? Isn't it your honour?"
'Worry and confusion'
Now that Al-Khatib has been convicted of her murder, relatives living thousands of miles away in Lebanon say they have struggled to comprehend what has happened.
They live in hope that her body will be found and she can be given a proper funeral.
"We were all shocked by the news," her father added. "How is it that in the land of civilisation and democracy such crimes can happen?
"It's already a year that her body has not been found. We are living in worry and confusion.
"At least if we had found the body and given her a burial, maybe we would be less agitated. We think about her everyday."
Al-Khatib, 35, of Gorton, was found guilty of murder after a trial lasting almost a month.