Andy Holligan's son killed in Bootle 'hit-and-run'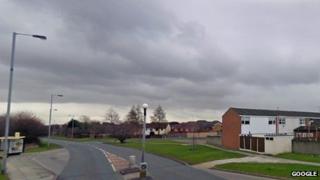 The 19-year-old son of a former boxing champion has been killed in a suspected hit-and-run in Merseyside.
Andy Holligan's son Vinnie was found by police in Northern Perimeter Road, Bootle, at about 00:30 BST on Sunday.
He was pronounced dead by paramedics after he was stuck by a car that allegedly failed to stop at the scene.
A 23-year-old man, from Bootle, has been released on bail after he was arrested on suspicion of causing death by dangerous driving.
Peter Hooton, lead singer of Liverpool band The Farm, said on twitter he was "numb from the news Vinnie Holligan was killed" and added it was "such a tragic waste of a young life".
Police are appealing for an off-duty doctor who treated Mr Holligan, but left before officers were able to speak to him, to come forward.
Andy Holligan, 46, was a British and Commonwealth light welterweight champion in the 1980s and 1990s.