Helicopter and plane in 'near miss' over Liverpool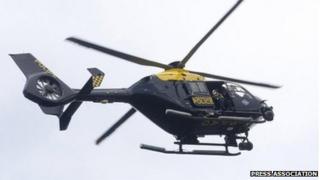 A light aircraft and a helicopter came within 100ft (30m) of each other above Liverpool city centre in a "near miss".
The encounter involved a twin-engine Piper Chieftain and an EC135 helicopter in November last year.
The plane passed "right in front" of the helicopter in the "Category A" near miss - the most serious type of event.
In its published report, the UK Airprox (aircraft proximity) Board (UKAB) said there had been a "serious risk of a collision."
The UKAB said the pilot and two observers were looking out of the right-hand windows of the helicopter but being in a right-hand turn, they did not see the other aircraft until it was passing just in front of them.
'Close encounter'
The report said a tower controller at Liverpool airport believed the Piper would remain at a safe distance from the helicopter and did not pass information to the plane's pilot.
The Liverpool radar controller did not pass traffic information to the helicopter pilot due to high workload.
Described by investigators as "a very close encounter", it happened despite the helicopter being fitted with TCAS (Traffic Collision Avoidance System).
The report ruled the fundamental cause of the near miss was that, in the absence of traffic information, "the Piper pilot had flown into conflict with the helicopter".
It concluded the lack of warnings from the helicopter's TCAS and the Liverpool tower controller's misperception of the pilot's routing, were contributory factors.
The near miss took place just a few days before an EC135 police helicopter crashed into a pub in Glasgow, resulting in 10 deaths.