Liverpool housing: 2,500 homes planned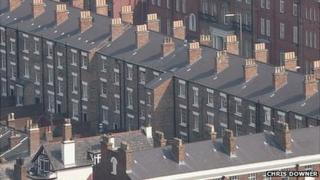 A £200m plan to create 2,500 homes in Liverpool has been announced.
A consortium appointed by Liverpool City Council will build 1,500 new homes and bring 1,000 properties back into use.
The council said the project would run for an initial five years and focus on "building the right homes, in the right place, at the right time".
Mayor of Liverpool Joe Anderson said it would help him to achieve his promise of 5,000 new homes in the city by 2016.
Liverpool City Council said specific sites for the new houses had not yet been confirmed, but an announcement would be made in September.
The consortium comprises of housing developer Redrow Homes, housing provider Liverpool Mutual Homes and building contractor Willmott Dixon.
Mayor Anderson said: "I want everyone in Liverpool to have access to a decent home, and that's why improving our housing stock is one of my top priorities.
"[This move] will unlock new investment opportunities and enable us to pool resources and expertise at a time which is vital when we are facing significant spending cuts."
He added: "It will create new jobs and deliver new and refurbished properties in the neighbourhoods that need it most".