Liverpool giants: Memories of August 1914 route announced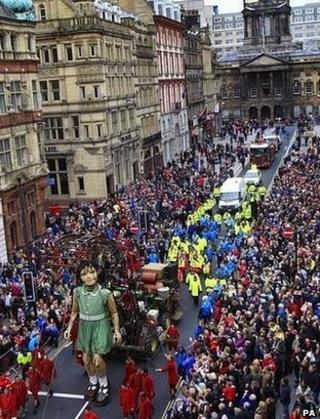 The full route for a parade of giant marionettes commemorating the outbreak of World War One has been announced.
Memories of August 1914 will take in Liverpool landmarks including St George's Hall, the Chinese Arch, the waterfront and the city's cathedrals.
Little Girl Giant and her dog Xolo will explore the city while Grandmother searches for them.
The event, running from 23 to 27 July, will end with the three giants sailing away on the River Mersey.
A story will be retold about the outbreak of the war and part of the show will be dedicated to the Liverpool Pals battalions.
Boarding a ship
The show is one of many events that will be taking place across the country over the next four years to mark 100 years since the outbreak of the war.
During the first two days, Grandmother will "sleep" in the Great Hall within St George's Hall.
Royal de Luxe, the French street theatre company behind the event, said the main action would start on 25 July, when Little Girl Giant "wakes up" at the Queensway Tunnel.
Grandmother will then leave St George's Hall and will be reunited with the two other giants in Newsham Park at about 20:00 BST.
The following day will end at Clarence Dock, ahead of the giants boarding a ship at Canning Dock on 27 July.
During the event, the giants will cover 30 miles in total.
Memories of August 1914 comes two years after a Titanic-inspired show called Sea Odyssey, which saw the little girl and her dog search the city for her uncle.