RNLI New Brighton save yacht 'minutes from being lost'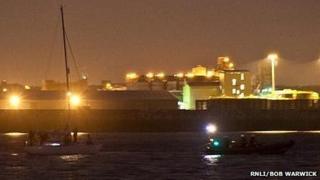 A yacht carrying six crew that could have been "lost within a few minutes" has been saved from sinking.
The yacht, which was racing to the Isle of Man, reported it was in difficulty in the Queen's Channel of the River Mersey at about 20:40 BST on Friday.
A lifeboat from RNLI New Brighton was launched to tow the stricken vessel back to harbour after pushing it off the channel's wall.
Senior helmsman Dave Lowe said it had been in a "very dangerous situation".
A spokesman for the RNLI said the yacht's crew, who were not injured, had been experienced, but that "a problem with a stay had caused the mast to collapse, taking sail, rigging and rope into the water where it fouled the propeller".
He said the crew had "dropped anchor but as this would not hold, they found themselves drifting into dangerous waters when the lifeboat arrived".
Mr Lowe said the yacht "would have foundered and probably been lost within a few minutes had we not arrived".
He added: "We used the lifeboat to push the yacht away from the wall while a tow was being rigged."
Lifeboat operations manager Graham Sale said it was "one of those unfortunate situations where a combination of factors can catch out experienced and well-equipped crews and vessels".