Dolly Parton hand-delivers millionth UK Imagination Library book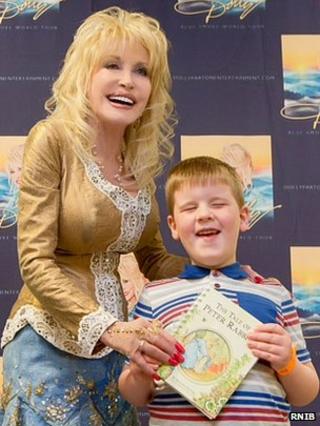 Country music legend Dolly Parton has hand-delivered the millionth book from her UK Imagination Library reading initiative to a Liverpool child.
The singer-songwriter gave a Braille copy of Beatrix Potter's The Tale of Peter Rabbit to five-year-old Dylan Manifold while in the city to perform.
It was the first book for blind and partially-sighted children the project has supplied in the UK.
The scheme, launched in Rotherham in 2007, provides free books for children.
The presentation by the star marked a link-up between the scheme and the Royal National Institute for the Blind (RNIB).
The RNIB's Clive Gardiner said the organisation had become involved because it was "committed to making sure children who are blind or partially sighted can enjoy the same opportunities as their friends and classmates".
Parton said she was "delighted the RNIB are part of the Imagination Library so that even more kids have the opportunity to develop a love of books for the earliest possible age".
The Imagination Library, which runs in the US, Canada, Australia and the UK, sees sponsors pay for pre-school children to receive a book every month.
It originally launched in Parton's home county of Sevier, Tennessee in 1996.
A spokeswoman for the scheme said since it was started in the UK, 45,000 children had been given books.