Liverpool raids target Toxteth and Dingle rival gangs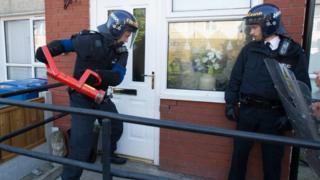 Raids have taken place across Liverpool in the biggest crackdown on organised crime in the city, police said.
Four hundred officers were involved in executing 38 warrants at addresses thought to be of rival gangs in Toxteth and Dingle.
Officers discovered two cannabis farms and seized guns, weapons and cash in the raids, as well as making 32 arrests for drug and gun-related offences.
The raids were part of a 12-month operation.
Those arrested were aged between 16 and 44. Twenty-seven were men and five were women.
Asst Ch Con Andy Ward said drugs with an estimated street value of £3m had already been recovered since the start of the operation, which is being run by the Matrix Serious Organised Crime team.
He said the team became aware of a dispute between two organised crime gangs in the Toxteth and Dingle areas who were vying for control over the supply of drugs.