Miro Griffiths: Disability campaigner made MBE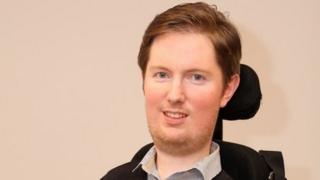 A campaigner who has been fighting for disability rights since the age of 13 has been recognised in the Queen's Birthday Honours list.
Miro Griffiths has won praise for his dedication to improving the lives of disabled people across Britain.
Mr Griffiths, 25, becomes an MBE for services to people with disabilities.
He said: "I believe that exclusion and isolation are very real factors, and it's a very dangerous time to be disabled."
When he was 13, he was awarded a Lottery grant to work on a computer programme raising awareness of disability issues.
Mr Griffiths, himself a wheelchair user, later became the youngest person to join Equality 2025, an advisory network for disability equality.
"I play my part as best I can, but there really are some incredible people I've had the good ortune to work with," he said.
Mr Griffiths, of West Kirby, Merseyside, now runs Miro Consultancy, which advises government departments, charities and businesses on disability policy.
He is also a member of British Council's Disability Advisory Panel, acting as a key advisor.
Among those also honoured is 80-year-old Patricia Blair of Liverpool, who is to be made an MBE for services to the National Association of Women's Clubs for Liverpool and District.
She has been closely involved with the growth of the association for more than 43 years.
Apprentice bricklayer Ashley Terron, 21, of Warrington, will receive a British Empire Medal for his performance in the World Skills 2013 event in Leipzig - a showcase of young skilled workers.