Terraced houses show Liverpool's Chinese heritage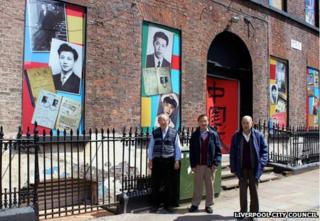 Artwork from a project about the history of the Chinese community in Liverpool has gone on display on a row of derelict terraced houses.
The pictures, which tell the story of sailors and their families, have been installed in Duke Street, near the Wah Sing Chinese School.
"Opera for Chinatown" was funded by the Heritage Lottery Fund to create an archive with voices and pictures.
Historian Moira Kenny said an opera will be written based on the work.
John Campbell, from Sound Agents - which led the project, said they focussed on the Blue Funnel Sailors, the forced Chinese repatriation and the Liverpool Chinese children who took part in the Hollywood film The Inn of Sixth Happiness in 1958.
The exhibition features stories and photographs from Shanghai sailors Sing Zhay Woo, Lang Kong Lau and Te Hay Yue.
Mr Woo, 90, said: "I cannot tell you how happy I was to see my dad's documents on display and photographs of my Mum and Dad, Aunty Em, Uncle Wong and other family members on the wall for all to see."