Liverpool Giants: The men who made up Lord Derby's Pals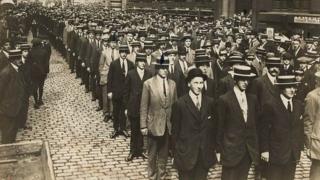 Royal de Luxe's Liverpool giants production, Memories of August 1914, will commemorate the outbreak of World War One and its effect on the city.
The conflict saw 5,000 Liverpool men sign up to serve their country, 2,800 of whom died in the war.
The men formed the Liverpool Pals battalions and were recruited by Lord Derby to answer Lord Kitchener's appeal for voluntary recruits.
The battalions formed part of the King's Liverpool Regiment and came mostly from the commercial classes.
Here are the stories of a handful of those men who served.
---
Col Edward Henry Trotter
Col Edward "Teddy" Trotter was described by his battalion as an exceptional leader of men and one of the most marvellous men they could ever work with or under.
The Trotters, whose family home was at Mortonhall in Edinburgh, were a family steeped in military history.
Col Trotter had already served in Sudan and in the Second Boar War before becoming the leader of the 18th Battalion of the Liverpool Pals.
On 1 July 1916, Trotter led the Pals into battle on the Somme. Many of his men died that day and he walked through their bodies, weeping at the loss.
A week later, he led what was left of the 18th Battalion into action, but was killed when a German shell hit his trench. He was 44.
The genuine grief at his death shown by his men showed just how much Teddy was loved through the ranks, local historians say.
His body was taken from the battlefield and is buried at the Peronne Road Cemetery, where he lies alongside his comrades who died on the same day.
---
Capt Charles Norman Brockbank
Charles Norman Brockbank was born in Blundellsands in 1884, the only child of a couple from Waterloo, Robert and Marion Brockbank.
He went to Merchant Taylors School and on to Malvern College, where he became a member of the Officer Training Corps.
Once out of education, he travelled the world, spending time in Europe, America, Canada and India before returning to England in 1911 to become a partner in his father's firm of African produce merchants.
In September 1914, Charles enlisted with the Pals and, the next day, he became one of the first men from the ranks to be commissioned.
Charles was in command of 1 Company, 18th Battalion and became captain in March 1916.
On the first day of the Battle of the Somme, he led his men into action. He was shot twice by a machine gun and died. It was his 32nd birthday.
After being hit, he refused to seek shelter and asked to remain in the open so that he could continue to cheer on his men.
He was heard shouting "go on, number one" - a memory that stayed with the men of his company.
The circumstances of his death were sent to his mother in a letter by Col Trotter, who would be killed himself a week later.
Capt Brockbank was buried in Danzig Alley Cemetery, his headstone bearing the inscription: "That Life is Long That Answers Life's Great End - Duty and Love Rest in God."
---
Pte John Edgar Kinder and 2nd Lt George Frederick Kinder
John Edgar Kinder and George Frederick Kinder - or Edgar and Fred, as they were known - were brothers from Mossley Hill who would later become comrades on the battlefields of France.
Edgar was a church organist in Mossley Hill and Fred worked at Canada Dock in Liverpool when they both answered Lord Derby's call to arms. Fred went to 17th battalion and Edgar the 19th.
On 27 July 1916, Fred badly injured his foot and was sent back to England. His brother heard about his injuries and immediately wrote a letter to him.
But by the time Fred received the letter, Edgar was dead.
He was one of 462 Pals who died on 30 July 1916 in the Battle of Guillemont. His name is on the Thiepval Memorial on the Somme.
An extract from the letter read that Edgar was "delighted" to hear Fred's injury was not too serious.
"On the day you were wounded, the brigade was relieved on the same evening," he wrote.
"I can tell you I got a shake up when none of your fellows could tell me anything of you, but that you were missing."
When Fred recovered from his injuries, he went on to earn a commission into the 6th Battalion King's Regiment.
After the war, he was accepted into the Liverpool Medical School, qualifying in 1925.
Fred became a GP in Longmoor Lane in Fazakerley, where he stayed until his retirement in 1960. He died in 1972.
---
Pte Jack Currie
Jack Currie was working as a Mersey river pilot when he decided to enlist with the Liverpool Pals along with four colleagues.
The story of his war was only uncovered when his granddaughter opened a chest containing hundreds of love letters between Jack and his sweetheart Sarah, who was known as Lal.
Jack survived the war but was shot through the arm twice. His correspondence with Lal continued through his convalescence.
Some of the photos found by Jack and Lal's grandchildren were quite explicit for the time, which came as a real surprise, as they had only known a very strict grandmother.
Jack eventually married Lal and returned to work as a river pilot.
On the night of 26 November 1939, he swapped shifts as a favour to a friend, who had also been a Liverpool Pal, and was working aboard the Charles Livingstone.
Unfortunately, the boat ran aground in bad weather off Ainsdale and he was killed. It was the night of his daughter's 21st birthday.
His family believe the injuries he received in France led to his death, as they had robbed him of the strength to hold on to the boat.