Military vehicles roll into Liverpool's Albert Dock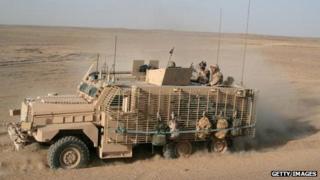 Armed vehicles used in Afghanistan are going on display in Liverpool as part of the city's celebrations marking Armed Forces Day.
A range of military vehicles are featuring in the exhibition at the city's Albert Dock.
They include a £250,000 Mastiff armoured vehicle, a Foxhounds and a Jackal "weapons platform."
All are suited to the desert environments typically found in Helmand Province.
Soldiers who have seen action in the vehicles will be on hand to answer questions.
Capt Jon Price, of 156 Regiment, Royal Logistics Core, said: "Armed Forces Day is a great chance for us to show off the variety of roles the Army performs and the state-of-the-art equipment we use today. We look forward to meeting members of the public."
Peter Cronin, director of development and marketing for Albert Dock Liverpool, said: "At one time Albert Dock was a gateway for many service personnel during times of military conflict, so where more fitting a place to mark Armed Forces Day.