Liverpool women's hospital 'must improve' staffing and complaints procedures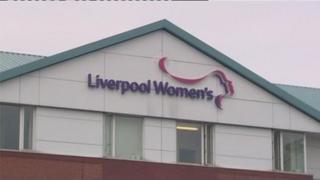 Liverpool Women's NHS Foundation Trust has failed to meet national quality and safety standards, a health watchdog has warned.
The Care Quality Commission (CQC) said maternity staff shortages led to delays in labour induction and some women not getting their chosen pain relief.
After an unannounced visit in April the CQC said staffing levels and complaints procedures at the trust must improve.
Kathryn Thomson from the trust said she is "confident that patients are safe".
The trust said it remains committed to ensuring safely staffed services and will "consider further investment in midwifery staffing".
It is also working to "streamline and simplify" its risk systems and processes.
The CQC has warned it will be returning to the trust to check it is complying with the directives within the warning notices.