March Falklands soldier Stewart McLaughlin's bravery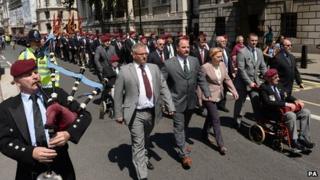 Hundreds of Falklands War veterans and serving troops marched on Downing Street to call for a soldier to be posthumously recognised for bravery.
Cpl Stewart McLaughlin, a 27-year-old paratrooper, was killed leading charges towards Argentine machine-gunners in the Battle of Mount Longdon in 1982.
His family said a citation from 3rd Battalion Parachute Regiment was submitted for a medal but it was lost.
The Army said there were opportunities to address "omissions" at the time.
'Tremendous support'
His brother Mark McLaughlin said: "The citation was lost. Despite accepting that Stewart's case is extraordinary and is deserving of an award, the rules - which are 100 years old - do not allow them to make a retrospective award for Cpl Stewart McLaughlin."
Retired Lt Gen Sir Hew Pike, who put forward the original citation, was joined by Labour MPs Angela Eagle and Dan Jarvis along with more than 100 other members of the armed forces on the march.
Cpl McLaughlin's family said there was a "tremendous show of support".
His son Stewart said: "It makes me very proud to see so many people coming from around the country and as far away as America."
The lost citation has been rewritten by Sir Hew, stating that "this outstanding and very courageous leader is strongly deserving of formal recognition".
The Ministry of Defence has been unwilling to consider a retrospective award.
An Army spokesman said: "Citations for operational gallantry awards are written at the time of the operation and there are clear opportunities to ensure any omissions are addressed at the time.
"Any changes now would undermine the integrity of the awards and devalue those held by others".
Ms Eagle, MP for Wallasey, said: "Cpl McLaughlin's family have campaigned tirelessly to see Stewart's case reconsidered in light of the discovery that a citation for bravery was written up but then lost and so was never considered.
"Cpl McLaughlin showed exceptional bravery... it is time for his courage and sacrifice to be recognised."