£150k pledge to make Liverpool's St Luke's church safe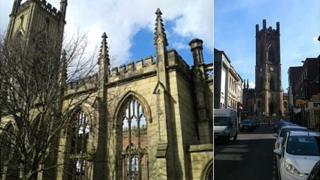 A council grant of £150,000 will secure the future of Liverpool's bombed out St Luke's church.
The building, on the corner of Leece Street and Berry Street, was severely damaged in a 1941 air raid.
A recent survey said urgent work was needed to make the building safe following damage caused by winter storms.
Liverpool mayor Joe Anderson has confirmed the council will underwrite the cost.
"I've made a commitment that we will put this right," he said.
It is hoped a community group could take over day-to-day running of the roofless church, while ownership stays with the city council.
A public consultation will be held throughout August where interested organisations will be asked to submit suggestions for the future of the church before the end of the year.
The chosen organisation could then take over the site in the summer, the council said.
Councillor Malcolm Kennedy, cabinet member for regeneration, said: "There is an agreement among all parties that we want to find an appropriate use for St Luke's Church.
"However, before any decisions are made, it is important that we get the views of the public about the future of the building."
St Luke's Church was built in 1831 by John Foster and John Foster Jr and continues to stand as a memorial to those killed in the war.
The walls and gates of the church are Grade II listed.