Swan shot with crossbow is released into the wild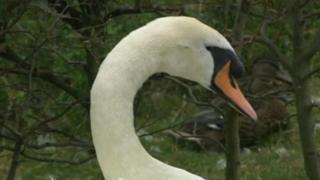 A swan shot twice with a crossbow and several times with an air rifle has been released back into the wild following an "amazing recovery".
The "distressed" bird was found with crossbow bolts in his head and neck on 18 June at St Helens Canal, Widnes.
One of the crossbow bolts hit the swan's windpipe and a valve was put in his side to allow him to breathe. The other was lodged in his skull.
The RSPCA and vet Alan Humphreys who operated on the bird released the swan.