Five guilty of £500,000 cash machine explosion raids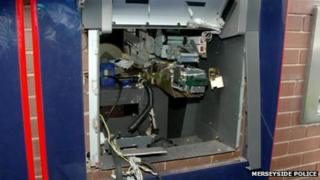 Two men have been found guilty of blowing up cash machines in the North West and the Midlands to steal an estimated £500,000.
Anthony Bushell, 29, and Thomas Whittingham, 28, had denied conspiracy to burgle commercial premises and conspiracy to cause explosions.
Three men had already pleaded guilty at Liverpool Crown Court.
Anthony White, 24, was acquitted. The jury failed to reach a verdict on Gary Keating, 30, who will face a retrial.
Bushell, of Childers Street, Old Swan and Whittingham, of Broughton Hall Road, West Derby, were found guilty on Thursday of the thefts from ATMs at banks, post offices and supermarkets.
Kurt Beddoes, 31, of no fixed address, Craig Cartwright, 39, of Vinecote Road, Coventry and Ian Ellis, 30, of Hostock Close, Prescot, each admitted one count of conspiracy to cause explosions and conspiracy to burgle commercial premises.
In 2013, the convicted men raided about 28 cash machines in places including the Wirral, Lancashire, Cheshire, Southport, Liverpool, Prescot, Loughborough, Gloucester, Birmingham, Northampton and Derby, police said.
They were traced through a tracking device fitted to the cash box from a machine in Warrington.
The men used gas to blow up the machines and steal an estimated £500,000 in cash, the Crown Prosecution Service (CPS) said.
Prosecutors said after the raids the men drove away at speeds of up to 191mph in stolen Audi cars with cloned number plates.
Maria Corr, from the CPS, said: "The cash machines were often in residential areas and these men blew them up without a thought for the safety of the local community."
The year-long police investigation involved the Merseyside, Warwickshire and West Mercia forces.
Det Ch Insp Gayle Rooney said the men believed they were untouchable and used extremely dangerous tactics, endangering members of the public.
The five men will be sentenced at Liverpool Crown Court on 5 September.