Former Hillsborough commander backed decision to open exit gate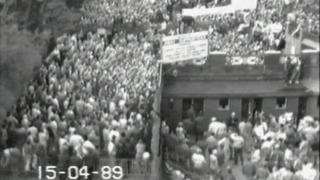 An experienced police match commander would have opened an exit gate to "preserve life" outside the ground, the Hillsborough inquests jury has heard.
But Ch Supt Brian Mole said there was time to warn the crowd inside the ground of the incoming surge of fans.
He had moved away from Sheffield just days before the disaster.
His evidence to a previous inquiry into the deaths of 96 Liverpool fans at the 1989 FA Cup semi-final was read to the court as he has since died.
Mr Mole was the match commander for the 1987 and 1988 FA Cup semi-finals at Hillsborough.
The match on 15 April 1989 was abandoned at 15:06 BST as the fatal crush spread through pens three and four on the Leppings Lane end at Hillsborough.
Earlier, at 14:52 BST, his successor as match commander, Ch Supt David Duckenfield, had given the order to open exit gate C.
He was asked to do so by a senior officer stationed outside the ground.
A massing of fans at the Leppings Lane turnstiles was threatening to cause a deadly crush, he was told.
A barrister, Mr Glasgow, who represented Sheffield Wednesday Football Club at the Taylor Inquiry, asked Mr Mole if he had ever found himself in a situation when he had "contemplated opening floodgates to allow an in-flow of a large number of people".
He said he had not.
Mr Glasgow asked him if crowd pressure outside "might have dictated that safety required that the gates be opened?"
Mr Mole replied: "Having looked at what occurred, I think that it may well have dictated a need for that, in the interests of the preservation of life outside the turnstiles."
He was told the gap between the request for the gate to be opened and its opening was five minutes.
Mr Glasgow asked if this was "ample time" to warn fans inside the stadium to expect an in-rush of people.
"Given the scenario you have given me, and I have no background to it, I would have to agree that five minutes is a fair amount of time to ensure that such messages were relayed," Mr Mole responded.
"But I cannot, unfortunately, put myself in the position that was being faced at the time," he said.
In his testimony to the 1989 inquest Mr Mole also said he would have given "serious consideration" to delaying the kick-off of the match.
But he denied Mr Duckenfield was "thrown in at the deep end" when he took command of the division covering Hillsborough.
He said his successor's "experience of policing football is wide" and although he was aware that his colleague had not policed a semi-final before he had "certainly policed crowds in large numbers".
The inquests continue.