Queensway tunnel's 80th anniversary celebrated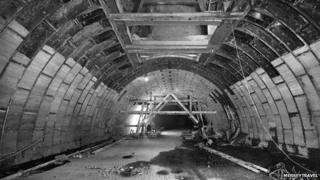 The 80th anniversary of the opening of the Queensway tunnel is being marked.
The 2.13 mile (3.4 km) tunnel linking Liverpool and Birkenhead was opened by King George V on 18 July 1934.
It was the first road tunnel under the River Mersey and took almost nine years to build.
An open day is being held featuring an exhibition and guided tours around one of the ventilation stations beneath the city.
The front entrance doors of George's Dock building will be opened to allow people to see down to one of the original giant fresh air fans, which weigh 25 tonnes.
A exhibition featuring memorabilia, photographs, original materials from the building of the tunnel and old artefacts donated by members of the public will be on display at George's Dock building.
A film showing original footage of the tunnels will also be shown during the day.
In 1934 200,000 people gathered at the Old Haymarket to watch King George V and Queen Mary open the tunnel.
The tunnel cost £8m to build and 1,700 men worked on the project in difficult conditions under the river bed.
Construction Required the excavation of 1,200,000 tons of rock and gravel and the building of two miles of roadway using 82,000 tons of cast iron and 270,000 tons of concrete.
The tunnel is split into two sections with the upper level being used to carry the road traffic.
The lower section, known as Central Avenue, is directly under the two lanes of traffic and was originally intended to house a tramway.
The construction of the tunnel began in 1925 from both sides of the river, with the two pilot tunnels meeting in 1928.
The tunnel entrances, toll booths and the exterior of the ventilation buildings were designed by the architect Herbert Rowse.
At either end of the tunnel there were two 60ft (18m) columns made from reinforced concrete and polished granite.
Only the column at the Birkenhead end remains.