Hillsborough official 'unwittingly' spread police lie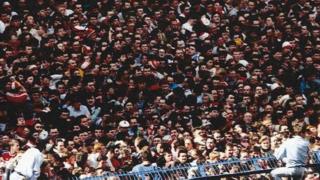 A Sheffield Wednesday club official said he unwittingly spread "a lie" to BBC Radio that Liverpool fans forced open a gate at Hillsborough stadium.
BBC commentator Alan Green told listeners on 15 April 1989 that club secretary Graham Mackrell had been told by police the gate was forced.
The inquests at Warrington were told Mr Mackrell could not recall which officer said this.
Ninety-six fans died at the Liverpool v Nottingham Forest game.
'No recall'
A transcript from Mr Green, who was broadcasting on BBC Radio 2, was read to the hearing.
It stated: "I spoke to the Sheffield Wednesday secretary Graham Mackrell just a few seconds ago.
"He has spoken directly to the policeman in charge here and he has been told that at 10 minutes to three there was a surge of Liverpool fans at the Leppings Lane end of the ground.
"That area holds about 10,000 people standing, 4,500 in seats. The surge comprised of about 500 fans and the police say that a gate was forced and led to a crush in the terracing area."
He continued: "Well under capacity I am told at the time. There was still plenty of room inside that area."
Mr Mackrell, who was club secretary from 1986 to 1999, said he did not recall speaking to Mr Green and could say who told him about the gate.
'Gate claims'
He said he was certain match commander Ch Supt David Duckenfield did not tell him and he could not recall where he had got that information.
Rajiv Menon QC, representing some bereaved families, said it was the "beginning of the creation of a false narrative about the disaster - a false narrative that blames Liverpool fans."
Mr Mackrell said he understood, but he had relied on somebody else for the information.
Mr Menon then asked: "You unwittingly disseminated that lie did you not?"
Mr Mackrell replied: "Yes."
The inquests continue.