Hillsborough vantage point seats 'sold' on day of tragedy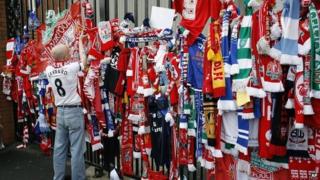 Two elevated seats for ambulance staff to watch for problems in the stadium were removed on the day of the tragedy at Hillsborough, the inquests heard.
Former chief ambulance officer for South Yorkshire, Albert Page, said if they had not been removed it could have "made a difference" in flagging up the tragedy earlier.
Ninety-six fans died as a result of the crush at the FA Cup semi-final in 1989.
Two officers had seats at ground level behind the players' tunnel instead.
The elevated seats were used at league games to provide "the eyes and ears" in the ground at league matches but the inquests heard claims the club removed them on 15 April, 1989 and sold them to spectators for the all-ticket tie.
'Pitch invasion'
Instead of being positioned in the raised seats in the ground's South Stand, the two ambulance officers had seats at ground level, between the Spion Kop and the North Stand, the jury in Warrington heard.
Mr Page said he was told the seats had been sold to spectators.
He said it was "less than desirable" that the officers were in seats at pitch level.
"Elevated seats would see inside the paddock at Leppings Lane," he said.
"They would have seen the exit from the tunnel. They would have seen the build-up of people in that area, whereas from the ground, straight in front, was a line of police officers because they were talking about a pitch invasion."
Jason Beer QC, representing Sheffield Wednesday, said he was unaware of the allegation the club had sold the two seats for the semi-final and evidence had been heard from the then club secretary that it was actually due to "a mix-up".
The inquests heard that after the Bradford fire disaster in 1985, from 1986 two complementary seats were allocated to two senior ambulance staff, as Mr Page wanted an ambulance service presence inside South Yorkshire football clubs.
He said the intention was for them to alert ambulance control if a problem arose within the ground and action needed to be taken.
But he added he did not expect the "spotters" to leave their seats unless "absolutely essential to do so" and it was the role of the police to patrol the ground.
The inquests will continue on Monday.