Liverpool giants: Thousands visit 'farting' Grandmother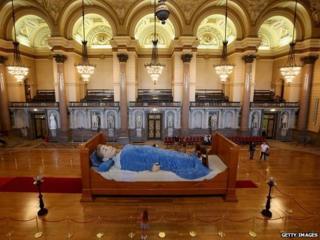 Thousands of people have seen a Grandmother giant "asleep" in Liverpool before a World War One centenary event.
Hundreds more are still waiting to see the 25ft (7.5m) marionette before she explores the city's streets from Friday, with 26 people who operate her.
She smokes pipes, spits from time to time and "breaks wind, which lifts her skirt with the scent of vanilla".
She will appear at the Memories of August 1914 show with the Little Girl Giant and her dog Xolo.
Liverpool City Council said Grandmother giant was "static" but was expected to start breathing on Thursday ahead of her walk.
Visitors can see the giant in St George's Hall from 10:00 BST until 01:00 on Thursday.
People queued for three hours to take a glimpse of her, the council said.
The site will reopen at 07:00 on Thursday and close at 19:00.
The giant marionettes will take in Liverpool landmarks during the parade including St George's Hall, the Chinese Arch, the waterfront and the city's cathedrals.
The event, running until Sunday, will end with the three giants sailing away on the River Mersey.
Royal de Luxe, the French street theatre company behind the spectacle, said the giants would cover 30 miles in total.
Mayor of Liverpool Joe Anderson said: "Lord Derby made a passionate appeal in Liverpool for people to volunteer to join the war effort.
"They only appealed for one battalion from Liverpool and they ended up getting four.
"They all signed up in St George's Hall, so it's appropriate that the commemoration of that is taking place here."
A section of the show over the weekend will be dedicated to the WW1 Liverpool Pals battalions.
Memories of August 1914 comes two years after a Titanic-inspired show called Sea Odyssey, which saw the little girl and her dog search the city for her uncle.