Liverpool Giants: Thousands watch second day of marionette show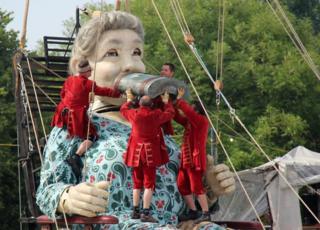 Thousands of people have lined Liverpool's streets for the second day of a giant marionette show commemorating World War One.
An estimated 300,000 people watched three giants walk through the city on Friday.
The huge figures began the Memories of August 1914 event at 10:00 BST.
The show features a grandmother, a little girl and a dog. They have been visiting the city's landmarks, including the Three Graces.
Culture Liverpool director Claire McColgan said the show and huge crowds were "creating history".
On Friday, the Little Girl, Grandmother and dog Xolo began in separate locations before meeting in Newsham Park where they stayed the night.
Earlier, the Little Girl and Xolo walked from the park to the Queensway Tunnel where they had a siesta.
When they "woke up", the pair met up with Grandmother Giant at Clarence Dock where the three will stay the night.
An estimated 35,000 people turned up at Clarence Dock alone to see the display.
Grandma started and ended her journey at the same locations, but spectators watched her have a whisky and a smoke of her pipe along the way to St George's Hall, where she went on to have an afternoon "snooze".
Royal de Luxe, the French street theatre company behind the spectacle, said the figures would cover 30 miles in total over the weekend.
A section of the event will be dedicated to the World War One Liverpool Pals battalions.
Hundreds of thousands of people saw the last Giants event in 2012, which commemorated the sinking of the Titanic.
On Sunday there will be a parade featuring the Giants and Liverpool Pals regiment starting at the Strand at 08:30 BST before the Giants sail away on the River Mersey.
BBC News Online will be following the giants through Liverpool with live text coverage, pictures and video of events. For more details, visit the BBC's dedicated Liverpool Giants page.