Liverpool Giants: What did the parade teach us about World War One?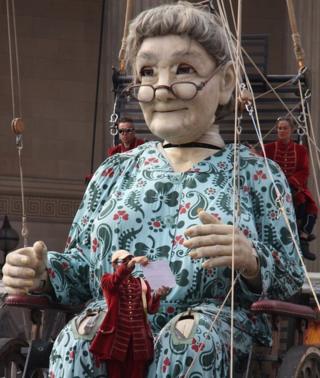 Giant marionettes strolling through the streets of Liverpool certainly made for an impressive sight - but what exactly did the spectacular show teach us about World War One?
Over three days, a million people stood in awe as the Little Girl, Grandmother and Xolo the dog made a piece of history.
The weekend the giants came to Liverpool will be spoken about for years to come, and many who watched the spectacle reported being moved to tears.
French street theatre company Royal De Luxe's stated intention was to commemorate the Liverpool Pals - the city's heroic battalions recruited by Lord Derby to answer Lord Kitchener's appeal for voluntary recruits.
But now the giants have sailed away down the River Mersey, did the show - officially entitled Memories of August 1914 - succeed in educating the public about the conflict and paying tribute to its heroes?
One person who believes it did is Tony Wainwright, secretary of the Liverpool Pals memorial fund.
The group have recently raised £100,000 towards a memorial to the battalions, which will be unveiled at Lime Street Station next month.
World War One saw some 5,000 men join the Liverpool Pals battalions, 2,800 of whom died in the war.
"Ask anyone who was standing with the giants in Newsham Park on Saturday, and they'll tell you the message was put across," Mr Wainwright said.
"There was a reading telling the story of a soldier's last letter home to his mum before he was killed at the Somme. There wasn't a dry eye anywhere.
"We were collecting for the fund and people were coming up to us and asking for photographs, telling us how moved they were."
Mr Wainwright said the giants were a way of "luring in" the crowds to listen to the history lesson.
To coincide with the giants' visit, organisers draped the city in posters featuring Lord Kitchener's famous "Your Country Needs You" poster.
There were also regular pauses in the marionettes' march, as the diaries of wartime Merseyside soldiers were read by the grandmother.
On Sunday, the giants' leaving ceremony was accompanied by a parade of volunteers dressed as the Liverpool Pals, and their widows.
Mr Wainwright said: "Actually, as the giants were leaving they were firing postcards into the air with Kitchener's poster on, and on the other side was a copy of Lord Derby's speech.
"We've been trying to get the message across about the Liverpool Pals for a long time, and I must say, people's knowledge in Liverpool was very limited. So we're very grateful."
Claire McColgan, director of culture at Liverpool City Council, said the giants should be considered in the context of art, and theatre - and must be approached with an open mind.
"It's a story being told by a grandmother to her granddaughter. The grandmother is retelling her memories of this city," she said.
"But it's up to the individual how much they want to take from it. Some people have simply watched the giants. But the majority of people have experienced layers upon layers of history and information these character have brought us.
"It's a piece of theatre, and Royal De Luxe is the best at what they do in the world."
Yet some spectators have admitted to being a little baffled.
Simon Carruthers said: "A spectacular commemoration to World War One or a modern day Emperor's New Clothes?
"Waiting for hours in the baking sun to see a puppet being pushed along by a tractor being visibly operated by people pulling ropes, to extremely loud music left me at no point with a feeling of how horrific World War One was for those men, women and families that were involved.
"We stopped at a bus stop and spoke to an extremely excited lady who told me several times 'I simply didn't get it.'"
Betty Ainslie, 78, from Wirral, said: "It came across a bit when the Grandmother Giant was telling the stories, but overall I don't think it did mark the war that much."