Cousin's 10,000 mile trip from Australia to donate kidney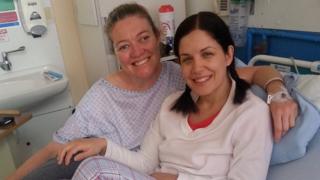 A Merseyside teacher is recovering in hospital after receiving a kidney transplant from her cousin, who flew from Australia for the operation.
Paula Rowlett, 32 and from St Helens, was told she had kidney failure in March 2012 and began dialysis.
Her family were asked if they would be willing to donate a kidney to improve her quality of life.
Ms Rowlett's Australian cousin, Lynley Everest, stepped forward despite living more than 10,000 miles (16,000km) away.
Ms Everest's mother - sister to Ms Rowlett's father - had moved from Liverpool to Australia aged 18 and lived there until she passed away in 2007, when the cousins met for the first time.
They kept in touch on social media and last year Ms Everest, 40, came to Merseyside to visit her cousin.
'Marvellous'
Ms Rowlett said: "She got to see what life was like on dialysis. She knew she was the same blood group, that's why she wanted to be put forward."
After having scans and tests in Australia, a date was set for the operation to take place last week at the Royal Liverpool University Hospital.
The sales and financial manager, who lives in Newcastle, New South Wales, said: "A lot of people asked me 'when did you decide?' But it didn't ever occur to me not to do this.
"Paula is an incredibly positive person. It's just her character."
Despite Ms Everest not being able to board a plane for six weeks after the operation, she said it was worth it.
"Everybody has been marvellous," she added.