Merseyside anti-hate crime campaign launched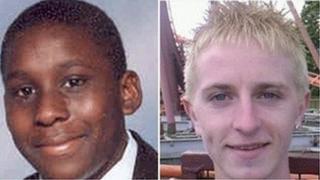 An anti-hate crime campaign in memory of two murdered teenagers has been launched across Merseyside.
The Hate Crime Strategy is aimed at raising awareness of such crimes and promoting support available to victims.
It was started to coincide with the anniversaries of the deaths of murder victims Anthony Walker and Michael Causer.
Hate crimes are defined as being motivated by racism, homophobia, religious bigotry or other prejudice.
The two-week project was planned by Merseyside's Police Commissioner Jane Kennedy, who said: "This strategy is about raising awareness of this insidious and damaging crime.
"Sadly, we have seen far too many times in this region the devastating and catastrophic results of hate crime and the impact on those who are targeted and their loved ones."
Other groups involved in the campaign include Merseyside Criminal Justice Board and Moving on with Life and Learning (MOWLL), a charity who supported Gary Skelly, a disabled man who was killed in a one-punch attack.
Reporting centres are being established where victims can report hate crimes.
These will be set up at sites including the International Slavery Museum, Citizens' Advice Bureaus, and Royal Liverpool University Hospital.