Eleven Liverpool libraries at risk of closure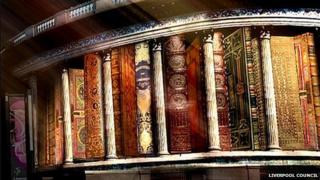 Eleven libraries across Liverpool are facing closure as a part of £1.7m of council cuts.
The libraries at risk are Breck Road, Dovecot, Fazakerley, Kensington, Lee Valley, Old Swan, Sefton Park, Spellow, Walton, Wavertree and West Derby.
Liverpool City Council said the libraries had suffered from dwindling visitor numbers and high running costs.
They are identified in proposals due to be discussed by the council's cabinet on 15 August.
Councillor Wendy Simon, cabinet member responsible for libraries, said: "It's important to stress that it isn't a foregone conclusion that the libraries identified will close.
"We are carrying out a further four-week consultation to make sure all options are considered and that it has been a fully comprehensive review of the service as a whole."
'Jobs under review'
A council spokesman said it was "too early to tell" if there would be redundancies, but there would be a "review" of how the libraries are staffed.
The libraries are currently staffed by a team of 160 people who work across a variety of council services, with 120 of those employed full time.
The library service needs to reduce its budget by £1.7m as part of a council target to make £156m of savings over the next three years.
Libraries will close "if alternative and viable ways of delivering the services from these buildings cannot be found," the council said.
It is hoped community members and other groups could step in to keep some libraries running.
The city has 19 libraries in total, and those not affected by the plans are the Central Library, Croxteth, Norris Green, Toxteth, Childwall, Allerton, Garston and Parklands.