Prince Edward to unveil WW1 Liverpool Pals memorial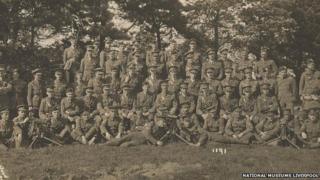 A memorial to the Liverpool Pals who served during World War One will be unveiled by Prince Edward on 31 August.
It follows a three-year campaign by the Liverpool Pals Memorial Fund to create a permanent tribute to remember the men and boys who volunteered.
The £85,000 frieze was designed by Liverpool sculptor Tom Murphy, whose other works include a statue to former Liverpool FC manager Bill Shankly.
It will be revealed at Lime Street railway station at 11:30 BST.
'Proud history'
Later that day there will be a re-enactment of the Liverpool Pals signing up to answer Lord Derby's call for recruits 100 years to the day it happened.
Retired Lt Col Anthony Hollingsworth, chairman of the Liverpool Pals Memorial Fund, said: "It will allow everybody to share the proud history of the Liverpool Pals, who were the first of all the famous Pals battalions and the last to be stood down."
The memorial tells the story of the Liverpool Pals through a series of dramatic images, from their formation through to their farewells, scenes from the battlefield, their return from war and the commemoration this year.
In 1914 Lord Kitchener issued his first call to arms for 100,000 volunteers, aged between 19 and 30 to enlist in the army.
Gen Henry Rawlinson initially suggested that men would be more willing to join up if they could serve with people they already knew. Lord Derby was the first to test the idea in Liverpool.
Liverpool's success prompted other towns to form units, with civic pride and community spirit driving a competition to raise the highest numbers.