Liverpool hairdresser bans women from Barber Barber salon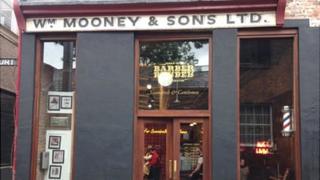 A barber has banned women from entering his newly-opened city centre salon - and said people who criticise him are "feminists and mavericks".
Barber Barber, on College Lane, Liverpool, has enforced the policy in an attempt to create "a traditional take on the old school barbers style".
Owner John Shanahan said women are not welcome because they "change the vibe" and take up too much room.
The move has been criticised by a local politician and widely on social media.
'Crass gimmick'
Nick Small, Liverpool City Council's cabinet member for employment, enterprise and skills, believes the shop could be in breach of equalities legislation.
He said: "I think it's probably legal to have a gents' barbers that only deals with men. What I don't believe is legal is if women are not allowed on the premises.
"I don't think this sort of thing has a place in this day and age. You can't say to a woman 'you're not welcome in here'."
Posting on Twitter, Emilie-Jasmine called the policy "utterly disgusting", while Andrew Foxley called it "a crass gimmick".
Mr Shanahan said his critics were "feminists" and "mavericks".
"They should move on and complain about something else," he said.
"They are making it out like we hate women and far from it. Nobody hates women. Most women - 99.9% of women - think it's a great idea.
"It's a gentlemen's barbers. There's no reason why a lady should be in here.
"We are a small shop with limited space. People walk past if they think it's too busy."