Hillsborough inquests: Section of PC's statement 'removed'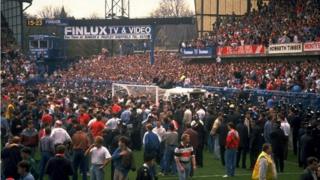 A section of a police officer's statement that included "potentially part of the cause" of the Hillsborough disaster was removed, a jury has heard.
PC Alan Ramsden policed both the 1987 and 1989 FA Cup semi-finals at Sheffield Wednesday's ground.
The new inquests heard how information about an absent police cordon was struck out from his statement.
Ninety-six fans died following a crush in the stadium on 15 April 1989.
Mr Ramsden told how, at the 1987 match, he helped form a cordon near the Leppings Lane turnstiles - at the stand where the crush occurred - which allowed a "semi-sterile" area in front of the entrance to the ground.
He said this did not exist in 1989, and he had tried to draw attention to this difference in pre-match policing in a statement he wrote on 9 May, 1989.
But the inquests jury saw that paragraph had been crossed out of his initial statement. The court heard it was later removed altogether.
In the document, written after the disaster, he wrote: "I also felt in relation to the entrance outside Leppings Lane, that there should have been some sort of semi-sterile area.
"We, that is the Rotherham officers, had this particular duty for the FA Cup semi-final in 1987, which was played between Leeds and Coventry."
'Considered significant'
Mr Ramsden told the Warrington hearing he had not agreed to the passage being removed.
He also conceded he wrote it because he "considered it to be significant".
Anna Morris, a barrister representing a group of Hillsborough families, asked Mr Ramsden: "No doubt you were noting down what you thought was part of the - potentially part of the cause of the disaster - yes?"
Mr Ramsden replied: "Yes."
Chris Daw QC, who represents two retired chief superintendents who were responsible for gathering evidence inside South Yorkshire Police, said it was common for comment, opinion and hearsay to be removed from police officers' statements.
But Mr Ramsden accepted an assertion from Ms Morris that his passage describing how he had formed the cordon was a statement fact, and not opinion.
The inquests continue.