Hillsborough inquests: Officer saw police 'pushing' fans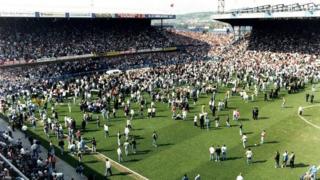 A former policeman saw officers attempting to "throw" fans back into pens as the Hillsborough disaster unfolded, an inquest has heard.
Brian Walton, an ex-Nottinghamshire Police constable, recorded in his notes seeing fans pushed as they tried to escape the Leppings Lane crush.
He told an inquest into the deaths of 96 Liverpool fans he saw a lifeless young girl through the fence mesh.
The jury heard he resuscitated a "young lad" and helped restart his breathing.
Christina Lambert QC told the court that Mr Walton recorded in his notes: "On reaching the West Stand, I saw police officers throw back persons in to the crowd who were apparently trying to get on to the pitch."
Mr Walton, who had earlier escorted Nottingham Forest fans off trains arriving in Sheffield, told the hearing: "I saw a police officer on the fencing and it was my assumption that he was pushing people back or away.
"I was thinking that was because they were trying to get on to the pitch for a pitch invasion."
'Crying and pleading'
After getting close to the pens, Mr Walton said he could hear people screaming.
"They were distraught, there was crying and there was pleading, telling me they can't move and wanting my help", the hearing was told.
He said he reached a gate leading out of pen three, was passed a "young lad" and started to do mouth-to-mouth resuscitation until he noticed breathing.
Mr Walton said: "He started to wretch and vomit, that's my recollection.
"I carried him a bit further away. I asked a supporter to attend to him and put him in the recovery position."
'Mass of people'
Earlier, the inquests heard from Brian Wallace, a former police inspector who captained South Yorkshire Police's first aid team.
Mr Wallace told the court when he first walked into the ground he saw "just a mass of people on the grass".
"I just thought, 'public order - it's a fight - they're fighting, the fans are on the pitch, it's trouble,'" he said.
Mr Wallace then organised a cordon of officers in front of Liverpool fans in the the North Stand.
He said many of the fans in the stand were "shouting and screaming" at the police and some were throwing coins.
He also said he heard words to the effect of "Get over there and help".
Mr Wallace added: "One or two people started being brought around on hoardings, on stretchers by civilians and police officers and I thought, 'Yes, it's a fight, people have been injured, they're fighting'."
He said it was only when former Liverpool manager, Kenny Dalglish, made an announcement over the public address system that calmed the fans that he took part in the rescue.
Stephen Simblet, a barrister who represents a group of Hillsborough families, asked Mr Wallace: "Are you saying that for all that time, as an inspector in charge of police officers, it did not occur to you that it was a medical emergency?
"You just froze. You spent the best part of 45 minutes doing nothing, didn't you?"
The former officer replied: "I totally and utterly refute that accusation - totally and utterly."
The inquests, held in Warrington, continue.