Hillsborough inquests: PC 'pleaded' with fans before crush occurred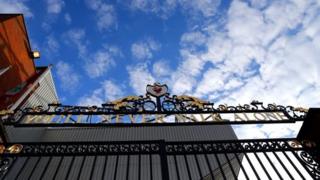 A man who lived near Hillsborough stadium heard a police officer use a loud speaker to "plead" with fans to stop pushing on the day of the disaster, a jury has heard.
John Bartholomew described the scenes before the 1989 FA Cup semi-final as "a real mess".
He told the inquests into the deaths of 96 Liverpool fans he thought somebody would be "crushed to death".
He said: "Nobody was going anywhere. There was just more people piling in."
Mr Bartholomew lived in Farndale Road, off Leppings Lane, and worked at a bakery on Clay Wheels Lane.
'Fans panicking'
He had been on his way home from work at around 14:10 on the day of the 15 April match.
He told the hearing, held in Warrington, Cheshire, how he was stopped "30 or 40 times by fans rushing about asking for tickets".
After arriving at home, he and his friend Constance then decided to go out again to look at the police horses on Leppings Lane.
He said a "big mass of supporters came running down", carrying cans of beer and asking for tickets.
"They couldn't get there quickly enough," he said.
"You could hear them screaming. You could hear ladies screaming, gentlemen shouting. It was a real mess.
"You could tell they were being hurt. It were that tightly packed. You could tell they were panicking, some of them."
Mr Bartholomew said he heard a police officer inside a Land Rover repeatedly plead for fans to stop pushing, using a loud speaker.
He said: "You could tell by his tone he was pleading and begging for them to stop pushing because you could see what was going to happen. It had no effect at all."
The jury has heard that at 14:52 police opened an exit gate to relieve the crush that developed at the turnstiles.
Mr Bartholomew said: "The effect of that gate opening - it was like a stampede to get through it.
"It was like sand in an egg timer. They just disappeared in a mass."
Mr Bartholomew later returned to Leppings Lane after hearing there had been an incident inside.
He said he saw fans leaving the stadium, and some of them shouted insults at the police.
Referring to the scene outside the ground, he said: "It sticks in my mind. I will take it to my grave."
'Signs of drunkenness'
The jury earlier heard how groups of drunk Liverpool fans urinated in a woman's front garden as they made their way to the ground.
Angela Hockenhull, who was 23 at the time and lived above a shop on the corner of Farndale Road and Leppings Lane, described it as "an ongoing problem" that occurred at other football games.
She said "a lot" of fans were carrying beer, "showing signs of being inebriated" and acting in a "bawdy" manner.
The court heard that a police officer called at Mrs Hockenhull's house 10 days later and asked her questions from a questionnaire.
One asked if she had witnessed any "incidents of drunkenness or disorderly behaviour by any of the fans".
Mark George QC, who represents 22 of the bereaved families, said the question asked Mrs Hockenhull to give "critical comments about the fans behaviour".
Mr George asked the witness: "Bearing in mind 96 people had died in this terrible disaster, were you surprised by the question that you were asked here about the fans, directing your attention to incidents of drunkenness and disorderly behaviour?"
Mrs Hockenhull said she did not believe she considered it at that time.
The inquests continue.